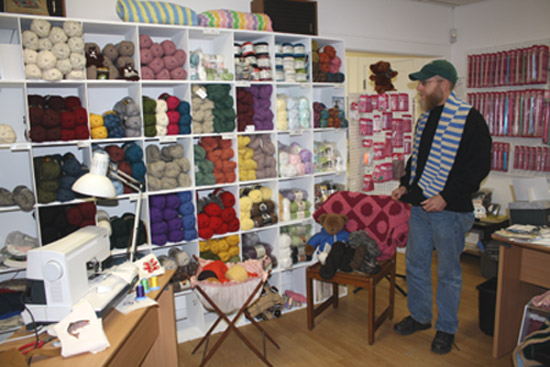 Mountain Bear Crafts
On August 8, 2009, Mountain Bear Crafts became the newest crafts shop serving the Catskill Mountains in Sullivan County. The store will carry national brands of low-cost yarns, such as Lion Brand, Patons and Bernat's, and will also feature products from smaller regional wool processing plants.
We'll soon add wool and alpaca yarns produced locally in Sullivan and adjoining counties in order to help support local farmers.

You'll be able to pick up needles, hooks and notions for your handcrafted projects and gifts.

Wednesdays beginning September 9, 2009 will be "Bring Your Project" nights, where you can catch up on those projects you've started, as well as share knitting/crocheting techniques and advice with others.

Please click on the "Calendar" link to see the schedule of upcoming classes, charity knitting events, and events of interest to crafters in our area.
"Knit Happens" at Mountain Bear Crafts ... but that's not all!
Mountain Bear Crafts will feature custom machine embroidery (in low quantities) on t-shirts, hats, aprons and polo shirts. We'll keep your company's logo on file, and make additional items as you need them.

Thanks for visiting!